Thanks for stepping by the Runes Blog Tour!!
Author Info
EDNAH WALTERS grew up reading Nancy Drew and the Hardy Boys and dreaming of one day writing her own stories. She is a stay-at-home mother of five humans and two American short-hair cats (one of which has ADHD) and a husband. When she is not writing, she's at the gym doing Zumba or doing things with her family, reading, traveling or online chatting with fans.
Ednah Walters on Twitter | Facebook | Website | GoodReads
Giveaway
>> The Rafflecopter Giveaway is OVER. The winners have been chosen and announced. Congratulations! <<
---

Stats
Series: Runes 1
Format: eBook ARC
Language: English
Pages: 245
Debut: May 20, 2013
@: GoodReads
Snuck from: Sheri @ Tangled Up In Books
Read: June 7-8, 2013
Area Info
Seventeen-year-old Raine Cooper has enough on her plate dealing with her father's disappearance, her mother's erratic behavior and the possibility of her boyfriend relocating. The last thing she needs is Torin St. James—a mysterious new neighbor with a wicked smile and uncanny way of reading her.
Raine is drawn to Torin's dark sexiness against her better judgment, until he saves her life with weird marks and she realizes he is different. But by healing her, Torin changes something inside Raine. Now she can't stop thinking about him. Half the time, she's not sure whether to fall into his arms or run.
Scared, she sets out to find out what Torin is. But the closer she gets to the truth the more she uncovers something sinister about Torin. What Torin is goes back to an ancient mythology and Raine is somehow part of it. Not only are she and her friends in danger, she must choose a side, but the wrong choice will cost Raine her life
Rogue Chronicles Entry No. 55
Cover: I already grabbed the new cover from goodreads although the tour banner still shows the old one. I just like this one a tiny bit better.
Framework: This was my first venture into Norse mythology, as far as I remember. At least, the first this deep. And yet there's still so much more to discover, I can't wait! I'd never imagined Valkyries or Norns. I know Valhalla, Freya, etc, but... not like this. I loved this, although it was only a little glimpse so far.
Plot: Starts out nothing special, but with the Norse mythology twist it became a little more interesting again, but didn't really hit home until about 60-70% in. But that really turned me around to actually loving it. The revalations and drama! I love, love, LOVE a very good drama, especially the romantic kind. This had several layers and was nothing teeny. I definitvely favorite this!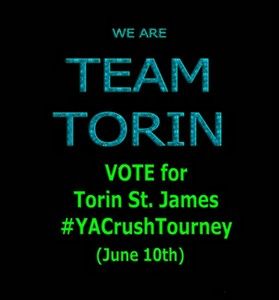 Characters: I am definitvely swooning for dark and sexy and daring yet awefully cute Torin, because I probably couldn't resist him if my life depended on it. But maybe you're more suprised to hear I liked Raine. A lot. She was basically the typical YA heroine, but she was one feisty piece of work, and I like that. Plus, although it turned out with her like with any other heroine in this genre so far, those two make an awesome couple in my eyes. Voting Team Torin in the YA Crush Tournament on the 17th for sure!
Overall: At first glance, this wasn't anything out of the YA paranormal ordinary. The new, hot guy comes to town, has all the girls fawn over him, yet of course he wants the one girl, our heroine, he cannot have because she is pretending not to fall for him. Summarizing it like this just makes my eyes roll. However, with the Norse mythology in it and all the drama that came up towards the end, it was actually a very good read. And I love me some good drama. Dying to know how this cliffhanger is going to continue in the next installment. Yes, dying. Imagine me starving on my couch.
Area Scan: Flow: 5/5 -- Vocab: 5/5 -- Plot: 5/5 -- Heroes: 4/5 -- Villains: 4/5
Romance: 5/5 -- Drama: 5/5 -- Action: 5/5 -- Suspense: 4/5 -- Humor: 5/5 -- Fantasy: 5/5
Discovered: 5+ Hoods
Runes Series:
#1 Runes | #2 Immortals | #2.5 Grimnirs | #3 Seeress | #4 Witches