"Waiting On" Wednesday is a weekly event, hosted by Breaking the Spine, that spotlights upcoming releases that we're eagerly anticipating.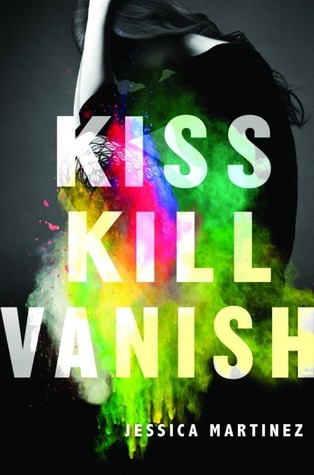 Title: Kiss Kill Vanish
Author: Jessica Martinez
Expected Publication: October 7, 2014
Summary:
Valentina Cruz no longer exists.
One moment, she was wrapped in Emilio's arms, melting into his kiss. The next, she was witnessing the unthinkable: a murder in cold blood, ordered by her father and carried out by her boyfriend. When Emilio pulled the trigger, Valentina disappeared. She made a split-second decision to shed her identity and flee her life of privilege, leaving the glittering parties and sultry nightlife of Miami far behind.
She doesn't know how to explain to herself what she saw. All she knows now is that nothing she believed about her family, her heart, or Emilio's love, was real.
She can change her name and deny her past, but Valentina can't run from the truth. The lines between right and wrong, and trust and betrayal, will be blurred beyond recognition as she untangles the deceptions of the two men she once loved and races to find her own truth.
Why I am lurking on this: First off, that title is just awesome. It rings all the right bells with me. And then add that summary, and I am so sold! A real betrayal story... can't wait!
AND
Title: Hit
Author: Lorie Ann Grover
Expected Publication: October 7, 2014
Summary:
After receiving a full-ride scholarship to Mills College for Girls, it appears Sarah's future is all laid out before her... that is until she walks into a poetry class led by Mr. Haddings, a student teacher from the nearby University of Washington.
Suddenly, life on the UW campus seems very appealing, and Sarah finds herself using her poetry journal to subtly declare her feelings for Haddings. Convinced Mr. Haddings is flirting back, she sets off for school in the rain with a poem in her back pocket -- one that will declare her feelings once and for all.
Mr. Haddings has noticed Sarah's attention; the fallout from any perceived relationship with a student is too great a risk, and he has decided to end all speculation that morning. But everything changes when Mr. Haddings feels a thud on his front bumper when he glances away from the road, and finds Sarah in the street with blood pooling beneath her.
Why I am lurking on this: Uhhh... student-teacher-relationship -- I'm game! It really wouldn't have taken more than that, but this last part also reminds me of Reflection & Reaction, a duo about a girl being in a coma very long, and I loved those!