"Waiting On" Wednesday is a weekly event, hosted by Breaking the Spine, that spotlights upcoming releases that we're eagerly anticipating.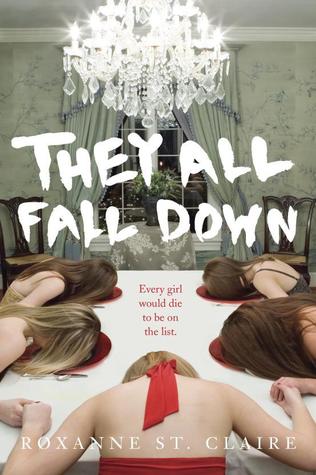 Title: They All Fall Down
Author: Roxanne St. Claire
Expected Publication: October 14, 2014
Summary:
Every year, the lives of ten girls at Vienna High are transformed.
All because of the list.
Kenzie Summerall can't imagine how she's been voted onto a list of the hottest girls in school, but when she lands at number five, her average life becomes dazzling. Doors open to the best parties, new friends surround her, the cutest jock in school is after her.
This is the power of the list. If you're on it, your life changes.
If you're on it this year? Your life ends.
Why I am lurking on this: Just look at this cover! It in combination with the title drew me in way more than the summary, but I like that it's short and ominous. Makes you wonder how much of the book will be all glitter and glory, and how much angst and thriller.