Waiting On Wednesday is a weekly event, hosted by Breaking the Spine, that spotlights upcoming releases that we're eagerly anticipating.
I'm waiting on...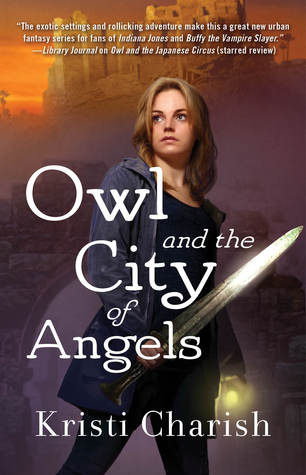 Owl and the City of Angels
by Kristi Charish
Series: The Adventures of Owl 2
Expected Publication: October 5, 2015
Alix Hiboux, better known as Owl, international antiquities thief for hire, is settling into her new contract job for Vegas mogul Mr. Kurosawa, a red dragon with a penchant for ancient, supernatural artifacts. And now he has his sights set on some treasures of the mysterious Syrian City of the Dead that are sitting in a recluse's private collection.
There's just one wrinkle. To stop the resurrection of an undead army that could wreak havoc on Los Angeles, Owl must break into a heavily guarded archaeological sight in one of the most volatile regions in the world. A detour through Libya and a run-in with Somali pirates sends the clock ticking hastily toward total paranormal disaster.
Meanwhile, Alexander and the Paris vampires have stopped stalking Owl's apartment, but they have by no means forgotten their death grudge against her. To top everything off, Owl finds out the hard way that there is nothing heavenly about the City of Angels...
Why I am waiting on this? I loved, Loved, LOVED Owl's first story, and I have high expectations for the sequel to wow me just as much. I already got my hands on the sequel via Netgalley. *squeal*