Waiting On Wednesday is a weekly event, hosted by Breaking the Spine, that spotlights upcoming releases that we're eagerly anticipating.
I'm waiting on...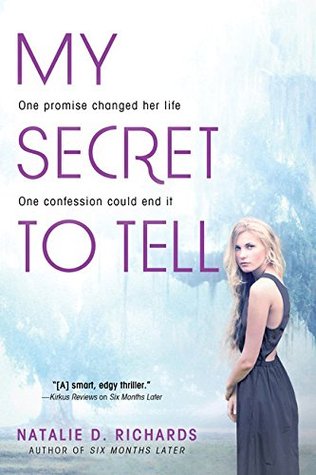 My Secret to Tell
by Natalie D. Richards
Expected Publication: October 6, 2015
There was blood on his hands. Where was the guilt in his eyes?
Emmie's had a crush on her best friend's brother forever. Deacon is the town bad boy who's always in trouble, but she sees his soft side when he volunteers with her at the local animal shelter. She doesn't think he's dangerous… until he shows up in her bedroom with blood on his hands.
Deacon's father has been violently assaulted and Deacon is suspect number one. Emmie's smart enough to know how this looks, but she also knows Deacon's biggest secret—he's paralyzed by the sight of blood. She's sure he didn't do this. Or did he? Because even Deacon's own sister thinks he's guilty…
Why I am waiting on this? It sounds simple and amazing, making it a simply amazing thrill of anticipation. I'm highly tempted to pre-order this!