"Waiting On" Wednesday is a weekly event, hosted by Breaking the Spine, that spotlights upcoming releases that we're eagerly anticipating.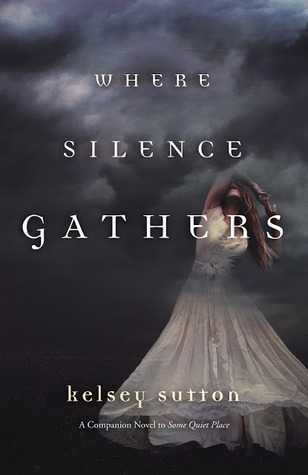 Title: Where Silence Gathers
Series: Some Quiet Place 2
Author: Kelsey Sutton
Language: English
Expected Publication: July 8, 2014
Summary:
Seventeen-year-old Alexandra Tate sits outside Nate Foster's house, clutching a gun. After serving ten years for the drunk driving accident that killed Alex's family, Nate has been released from prison. Every night, Alex waits out of sight, building up the courage to exact her own justice. There's just one problem: Forgiveness.
Alex has been able to see personified Emotions for as long as she can remember, and Revenge is her best friend. But when Forgiveness suddenly appears, he offers Alex a choice—getting even or moving on. It's impossible to decide when Revenge whispers in one ear . . . and Forgiveness whispers in the other.

Why I am looking forward to this: I haven't been able to get around to Some Quiet Place yet, but hell do I LOVE the concept of seeing personified emotions. I'm pretty sure I'm going to love this.